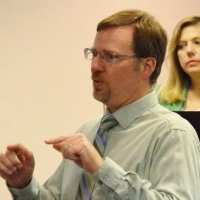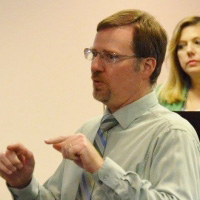 David Rose, Lead Pastor
Email:

vfcnpastor@gmail.com
     I was born into a family with a Godly heritage for which I am eternally grateful. At the age of seven or eight, as my family was returning from a weekend visit with my grandparents, I asked Jesus to live inside my heart and make me what He wanted me to be. I do not remember the events of that weekend other than my childhood commitment to God.
I grew up about 50 miles south of Chicago in Momence IL. I loved playing baseball in grade school, basketball in Junior High, and football in High school. As I moved away from home I moved away from God. I had to decide if Christianity was going to be my own belief. The more I looked at the evidence the more my intellect had to agree that Christianity was true. My faith became my own. During this time in 1986, I got married to the love of my life, Angela, and now have three beautiful daughters.
     In 1997, I traveled to Washington, D.C. to attend Stand In The Gap. As I humbled myself before the Lord, He manifested Himself to me in a way I could not have imagined possible. My heart was filled with love, forgiveness, acceptance and submission. We began to sing the song "Here I am" and the following words became my personal love song to Jesus and He sanctified me as He held me in His arms.
" If You ask me for an offering I'll give it, If You want sacrifice I will obey My life is all I have and I will live it dedicated to the honor of Your Name. Here I am, and I long to do Your will, Here I am, I'll follow Your command, Here I am, until my calling is fulfilled, Here I am, Here I am.
     The call to vocational ministry came January 27, 2002 during Sunday morning worship service. I had felt the Lord had something more in the way of service to Him and waited patiently for His command. As we were worshiping, the Lord spoke to my spirit to shepherd His sheep. I committed to follow His command and asked for affirmation of what I discerned His will to be. I turned to my wife and said, "It's time". Her eyes were filled with understanding. I was unaware that she had previously spoken those very words to friends and family saying, "I am waiting for the day when David comes to me and says its time", meaning to enter vocational ministry. I sat and prayed to know that this was from His heart and not my mind. Immediately following that simple prayer, a missionary video spoke of how "this service is from the heart of God not the mind of man." When we returned home, I read my devotional calendar for that day and Oswald Chambers wrote, "Not often, but every once in a while, God brings us to a major turning point-a great crossroads in our life. From that point we either go toward a more and more slow, lazy, and useless Christian life, or we become more and more on fire, giving our utmost for His highest-our best for His glory." I could not imagine life any differently.
     I was ordained by The Church of the Nazarene in April 2010. I was the founding Pastor of a church plant in Kyle Texas and have served on staff at South Austin Church of the Nazarene in several aspects, the latest being Pastor of Outreach and Evangelism.